10/08/2020 | by Lumberjack


PLACES TO CAMP
Breakaway Twin Rivers Caravan Park – Acheron VIC
If you are looking for an escape from the hustle & bustle of the everyday Melbourne, you can make your escape here. A decent hour & a half away you will find the Breakaway Twin Rivers Caravan Park & the rest you have been waiting for. There is plenty of entertainment inside the park for the younger ones, like peddle carts, a heated pool, jumping pillow, mini golf & tennis court.
When staying here you have the choice of riverside sites with full river frontage as well as powered or unpowered options. They also have cabins avail;able to sleep up to 8 people too!
For things to do around the area you have the gorgeous Goulburn River nearby, a key spot for fishing, swimming, canoeing & kayaking. You can also find the Great Victorian Rail Trail for the keen cyclist among you who are up for a challenge. Mount Buller is also a short drive away if you fancy some snow fun during the colder seasons.
The scenery around the Goulburn river is beautiful enough for a lot of people to prefer a simple hike or long walk for their daily entertainment before stopping by a local winery for a meal to finish up the day.
The Breakaway really is a break away from the busy everyday & a true escape to something better.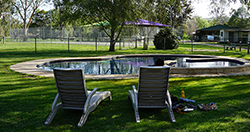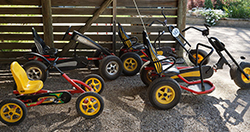 What are the amenities?
Solar Heated Pool
Jumping Pillow
Peddle Karts
Mini Golf
Tennis court
Movie Nights (weather permitting)
Colouring competitions for the kids
Laundry facilities
Camp kitchen
BBq's
Kiosk with food essentials, ice, fishing licences, Fired rum hire (seasonal)
Swap & Go gas bottles
Information & Image Source: thebreakaway.com.au