06/08/2020 | by Lumberjack


PLACES TO CAMP
Cobram Willows Caravan Park – Cobram VIC
If you are looking for a locally owned & operated business to support, let us direct your next holiday trip to Cobram to visit Cobram Willows. Set on a large 8 acres of space, plenty of elbow room is this caravan park. With large trees throughout the park to provide beautiful views & great shade, you will get to experience a beautiful calming atmosphere when staying here.
It's your choice whether you want to stay in one of their many cabins, or camp at one of their powered or un powered sites. For those staying for shorter periods they also offer drive through sites, great for quick stops.
You get a good sense of a camping community with their open style camp kitchen area. It's a great space to meet new people & have a good chat about your camping memories while cooking up your secret camping grub. With the playground close by you can keep an eye on the kids while they play too.
Online you will find many glowing reviews for this neat tidy park. Visitors just love the peaceful & well kept nature of the park, it's just waiting for you to come visit.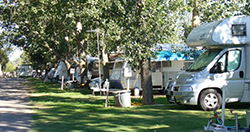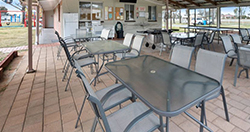 What are the amenities?
Freshwater Swiming pool
Shady camp sites
Pets allowed (sites only)
Laundry with ironing facilities
Camp kitchen
Covered BBQ area
Gas refills
Car wash
Long term Van/boat storage facilities (costs apply)
Information & Image Source: cobramwillows.com/