03/06/2019 | by Lumberjack
Camping isn't just about finding the right spot to set up camp.
You also need the right kind of tent. There are differences between the various tent types and knowing how to choose the right one can make a big difference in how enjoyable your camping trip is.
Choose you Type
Are you going to be doing a lot of backpacking and carrying your tent around? Then you probably want a small, minimalist backpack tent. These are bare bones tents that are very light and easy to travel with.
For larger and more elaborate setups, you may want to go with a typical dome tent, a family tent or an expedition tent. These offer more room and can accommodate a few people instead of just one.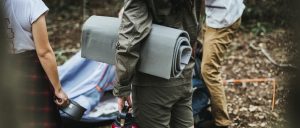 Pick a Fabric
Many tents come in a few different varieties, offering you various materials to pick for your tent's construction. Mesh tents are airy and allow in breeze to make them far bearable in hot weather. However, these also allow in a lot more light and perhaps even some pests. They also provide you far less privacy, though many of them come with optional coverings you can use.
The majority of tents are made with nylon or polyester, which provide decent protection from the elements and will keep most water out. They let in some light and cast shadows inside the tent, but you are otherwise provided privacy.
If you want a tent that will last through some abuse and not tear when you set it up on rocks or near branches, then you may want to give taffeta or ripstop tents a try. These are designed to prevent abrasion and tears, respectively. The tougher your tent's material is, the longer it will last, but the more it will cost as well.
Determine Waterproofing
Not all tents are waterproof, even these that can fully close. You can check packaging and advertising materials to see how water resistant or waterproof the tent is before you buy, or you can make any tent waterproof by adding a protective later to it.
Using silicon or polyurethane coating on the outer surface of a tent will keep out the water very well. This won't really work on mesh tents, but it works great on any closed fabric tent.
A coating like this is relatively cheap and you can apply it yourself. If you are going to be camped out in bad weather at all, you should consider this option.
Decide on Pegs
Pens tend to come with their own pegs, but they may not offer strong enough pegs for wherever you are camping. Some of them come with very low quality pegs too, so you may want to replace them with something tougher and more durable.
Check the pegs for any tent you are planning to buy and ensure they are suitable for your camping needs. It's also a good idea to bring your own pegs, just to have some extras in case something happens to any of the ones that come with the tent.