23/07/2018 | by Lumberjack
Lumberjack Camper Trailers were approached by the Outdoor Adventure production company to take part in the filming of several episodes for their new show Camper Trailer Lifestyle to be aired on ONE HD over the following few months.
Lumberjack Camper Trailers appeared in episodes 4,5 & 6 with footage taken in the Flinders Ranges in South Australia. Lumberjack were also asked to be in the filming at the Victorian High Country which is where as Sales Manager, I was asked to take part.
Initially I was quite hesitant as I hadn't been four wheel driving before and there was so much to do at Lumberjack. Manager John Vo who had taken part in the last lot of filming urged me to go and enjoy.


Day One –
Tim and I drove from Geelong to Maffra, a small country town in the Gippsland region of East Victoria. We checked in to the Maffra Motel and met up with Tim Bates from Tim Bates 4WD Adventures. As a 4wd enthusiast and club instructor, Tim Neville knew exactly who Tim Bates was watching his You tube clips, TV show appearances and following him on Facebook & Instagram. He is apparently a legend in this region and the perfect tour guide for the following 10 days.
The Riches-Merton family who were selected to review the camper trailers on trip arrived from Brisbane. Andrew & Christine were lovely with their son Linc & daughter Ines were full of beans and very well mannered. Key presenter Craig "Macca" McGown arrived soon after and the banter started immediately just as it had finished after meeting him at the Adelaide show a few months earlier. After a quick Parmi and a few pots at the pub, film crew arriving late we were all pretty tired and went to bed early.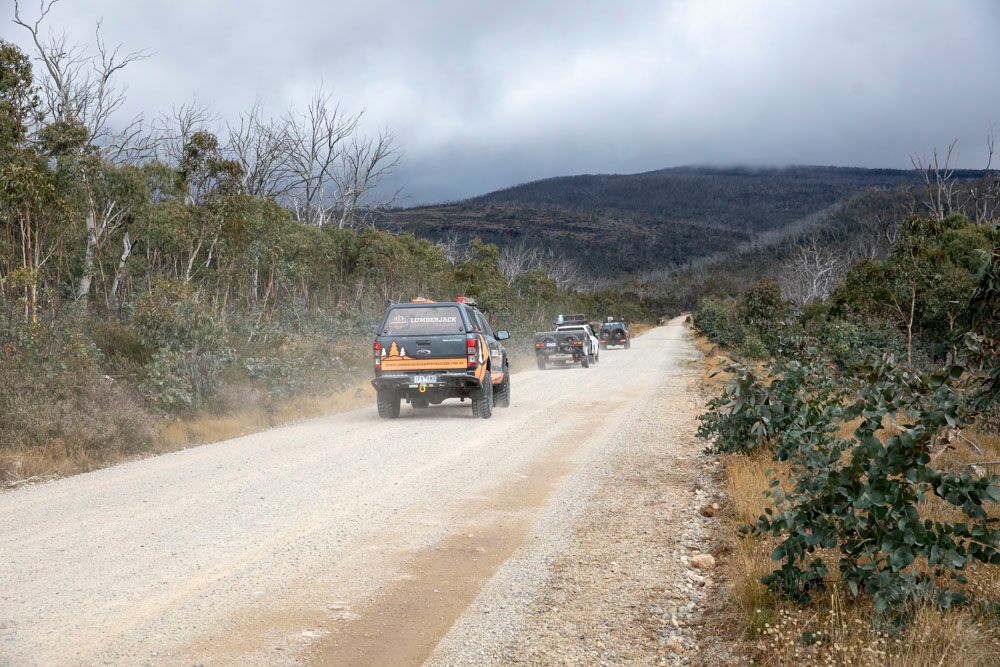 Day Two –
Drove to Heyfield to fuel up, past Lake Glenmaggie which was pretty empty, headed to Licola for a briefing and some filming then started the climb to Howitt's Hut where we located our campsite for the night. Set up the Glenaire in no time for the family to load their bags and make their beds. They would tow the Glenaire for the next couple of days then do a review on the features later.
Meanwhile Tim Neville was preparing dinner for the night on the awesome stainless kitchen with piezo ignition and cast iron trivets. The camp fire was a welcome addition with minus 3 degrees and howling winds. Peter from Camperact in NSW handed out some Lindt Easter Eggs so I grabbed a handful and put them in my jacket pocket, grazing on them during the evening.
The rain started which was a great indication that it was bed time. Tim and I rolled out our swags under the Lumberjack Ranger awning and jumped in fully clothed as it was too cold to get changed.

Adrian Henry
Sales Manager