20/08/2018 | by Lumberjack
Day Nine –
Waking up to a chilly zero degrees, it wasn't long before we hit the tracks without the campers and headed up to Mount Pinnibar, the highest 4WD accessible track in Australia at 1772 metres. The climb seemed endless with the Ranger working overtime negotiating the rocks and slippery conditions. Worth the climb and time – ABSOLUTELY. Equal to the views from the Blue Rag Range track, Mount Pinnibar turned it on with snow capped mountains and clear sky surrounding us.
The wind chill factor was like nothing I had experienced with the man controlling the drone needing a medal. Made our way back to the campsite, hooked up the trailers and crossed the Murray River to NSW. Only a couple of foot deep but still an awesome site to see.
The film crew had all the footage and photos they needed so we had the option to head north and stay in a Motel overnight or drive home to Geelong. Tim and I just wanted to get home to our families so we drove straight through only stopping in Albury for a quick bite to eat.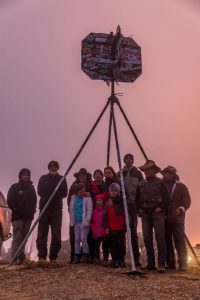 An amazing experience and great memories with some awesome people. Looking forward to hooking up a Lumberjack Camper Trailer and heading to the Victorian High Country with my family and friends real soon.
Happy travels and stay safe
Adrian Henry
Sales Manager